Anovite products
If you are considering joining any MLM company, it's vital that you understand the products they offer. 
The flagship product is the Colostrum6 which contains the "superfood colostrum". Colostrum is the breast fluid produced by humans, cows and other mammals before breast milk is released.  
Some of the benefits of this "superfood" include (but apparently more research is still needed to prove this):
Improving the immune system
Improve gut health
Prevent and treat diarrhoea
It's important to note that Anovite's products contain "bovine colostrum", which is actually form cows. 
Here are some potential downsides to consider from Healthline:
Not suitable for anyone allergic to milk or soy
Unknown if safe for pregnant or breastfeeding women
Concerns of the ethics of taking from calves that need it
Food safety concerns (traces of salmonella found in some)
So the products have still not had enough research to conclusively prove the benefits yet.
But this is the main product and selling point for Anovite.
The other products on offer at Anovite are:
Colostrum6 – (tablets and powder) – $25 for 90 capsules
LimuZ – Colostrum in sachets – $70 for 30 doses
LeptiTrim6 –  Colostrum for weight loss – $62.50 for 180 capsules
Canine6/ Feline6 – Colostrum for cats and dogs – $22.50-$72.50
Flex6 – Colostrum for muscle growth – $67.50 for 180 capsules
OxyQuest – cleanser – $37.50 for 2 ounces
You can learn more about the Flex6 in the 40 second below…
And you can check out the full range of Anovite's products here.
How to make money with Anovite
Ah, the part you have probably been waiting for!
So let's not beat around the bush. 
You can make money from Anovite in 2 ways (like most MLM companies):
Earn commission by selling their products
Recruit more people and earn bonuses from sales they make
Before we dig into this, let's figure out…
How much does it cost to join Anovite?
It costs $39.95 to become a distributor for Anovite. 
However, you will also need 100 PQV to start so you are recommended to get a Fast Start package.
This ranges in value with a range of products from $149.95- $499.95.
But the costs do not stop there amigo…
Monthly costs to remain active at Anovite
If you want to qualify for commission (surely the only reason you become a "business distributor" is to do that?!) then you need to accumulate 50 BV every month.
Realistically, this means setting up a "Smartship" (standing order) for $50+ every month.
If you sell $50 worth of products every month you wouldn't need this. But if you don't sell this much your account will be suspended.
On another note, if you're not even going to use the products yourself then you clearly don't even believe in them and this probably isn't the right opportunity for you.
Total costs for 1 year = 
$39.95
$150-$500
$50 x 12 
Total 1 year cost = $790-$1140 (and you'll likely spend more than $50 a month as many products are more than this).
Anovite compensation plan
So MLM compensation plans are often harder to understand than learning how to speak Mandarin. 
Anovite is no different. 
So I will keep it as simple as I can.
There are 13 ways to earn money:
Retail commission – 25% commission on products you sell
First order bonus- 25% bonus on the first order your customers make
Customer advantage bonus- helps to earn team bonuses
Smartship Advantage program- accumulate Smartship credits
Fast-start bonus – $75 or $150 for recruiting someone
Fast-start mentor bonus – $25 for recruiting
Team bonuses – $25 for first 2 "cycles" + $10 after that
Matching team bonus – 10% of downline when you are a director or above
Rank advancement bonus – grow your team and advance in ranks
Car/ lifestyle bonus – $100-$375 per week if "Bronze Director" or above
Ruby executive pool – 1% of your teams BV
Emerald executive pool – 1% of your teams BV
Diamond exuctive pool – 1% of your teams BV
What did I tell you… confusing right?
All you need to know to start is that you get paid for doing 2 things:
Sell Anovite's products
Recruit people into Anovite's business
If you really want to get your head around the compensation plan then this 20 minute video will help.
Alternatively you can find the full 20 page compensation plan here.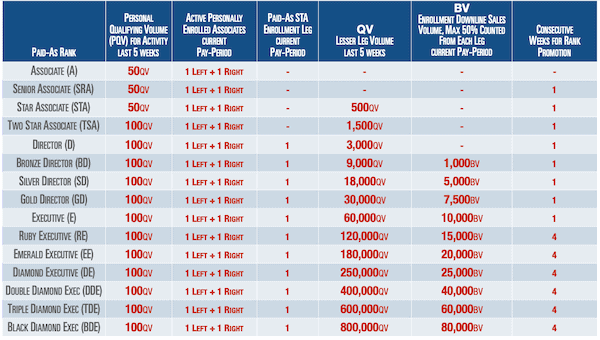 Is Anovite a scam?
No Anovite is not a scam. 
It sells legit products and it pays the distributors commission and bonuses like they say they will. 
However, just because an opportunity is legit it doesn't mean it's right for you. 
The rest of this Anovite review will help you to make an informed decision about the opportunity.